Why Can't Learning Be Fun?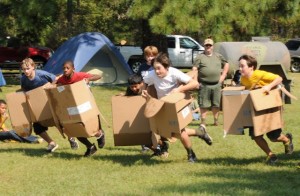 Why can't learning be fun? When I look back at my K-12 and college days, I think about a lot of sleepy, boring classes. At the same time, I think about some of the great things that I have learned and creative ways in which they have been taught. There have been plenty of fun games that have reinforced lessons learned.
I'm not saying that education is going to be a party all the time. Sometimes it's going to be boring and you have to power through and do the best you can. Here at LearnALanguage.com we aim to keep you awake, alert, having fun and learning as much as possible. We don't want you to be saying 'how boring' in Italian out loud when you are learning Italian. The Learning Lounge, Memory Machine and Lingo Dingo are fun games (we hope you think so too) that reinforce vocabulary and phrases you are learning.
If you don't have a fun game to help you review what you are learning, give yourself fun rewards for being awesome to help motivate you to power through the learning process. In our office, some of my co-workers and I set goals to arrive to work at certain times of the day. Whoever arrived late the most this week had to listen to the Hannah Montana Pandora station for 1 hour at work and share it on their personal Facebook and Twitter pages. That lucky person was me.