Learn Spanish – Level 3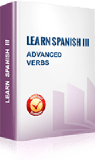 Achieve complete fluency in Spanish! This course helps you master advanced concepts of the Spanish grammar, expand your vocabulary and be able to carry on conversations with native Spanish speakers.
Add to Cart
Add to Cart
What Do I Get?
– Software with 475 lessons
– 16 hours of MP3 audio lessons
– Printable pocket manual in PDF format
– Strong community support on our social media channels
– 24/7 customer support whenever you need it
What Will I Learn?
Our Spanish 1 Course Will Teach you:
- Complete fluency with advanced Spanish verb conjugations and tenses.
- To speak, read, write, and comprehend Spanish
- To understand native speakers in virtually any real-life situation, on TV and the radio.
Learning Methodology
Our lessons are taught in classroom-style interactive lessons with thousands of varied practice exercises and fun drills to help you learn Spanish faster. Our audio lessons are specially tailored in a way that will help you understand native speakers easier while advancing your own Spanish speaking skills. This is a proven and time-tested methodology to help you achieve the advanced level in Spanish.
Topics Covered in the Course:
- 500+ Verbs, plus their irregular conjugations
- Imperfect Tense
- Conditional Tense
- Future Tense
- Commands/Imperatives
- Subjunctive
- Past Subjunctive
- Present Progressive (w/all tenses)
- Comprehensive Review
System Requirements
– Windows: XP/Vista/7/8
– Available Disk Space: 2 GB (MP3 Requires additional 1.7 GB)
– 1 GB of RAM
– Windows: Intel Core Duo 1.8GHz
– DVD-ROM drive and speakers
– 1024x768 screen resolution or higher